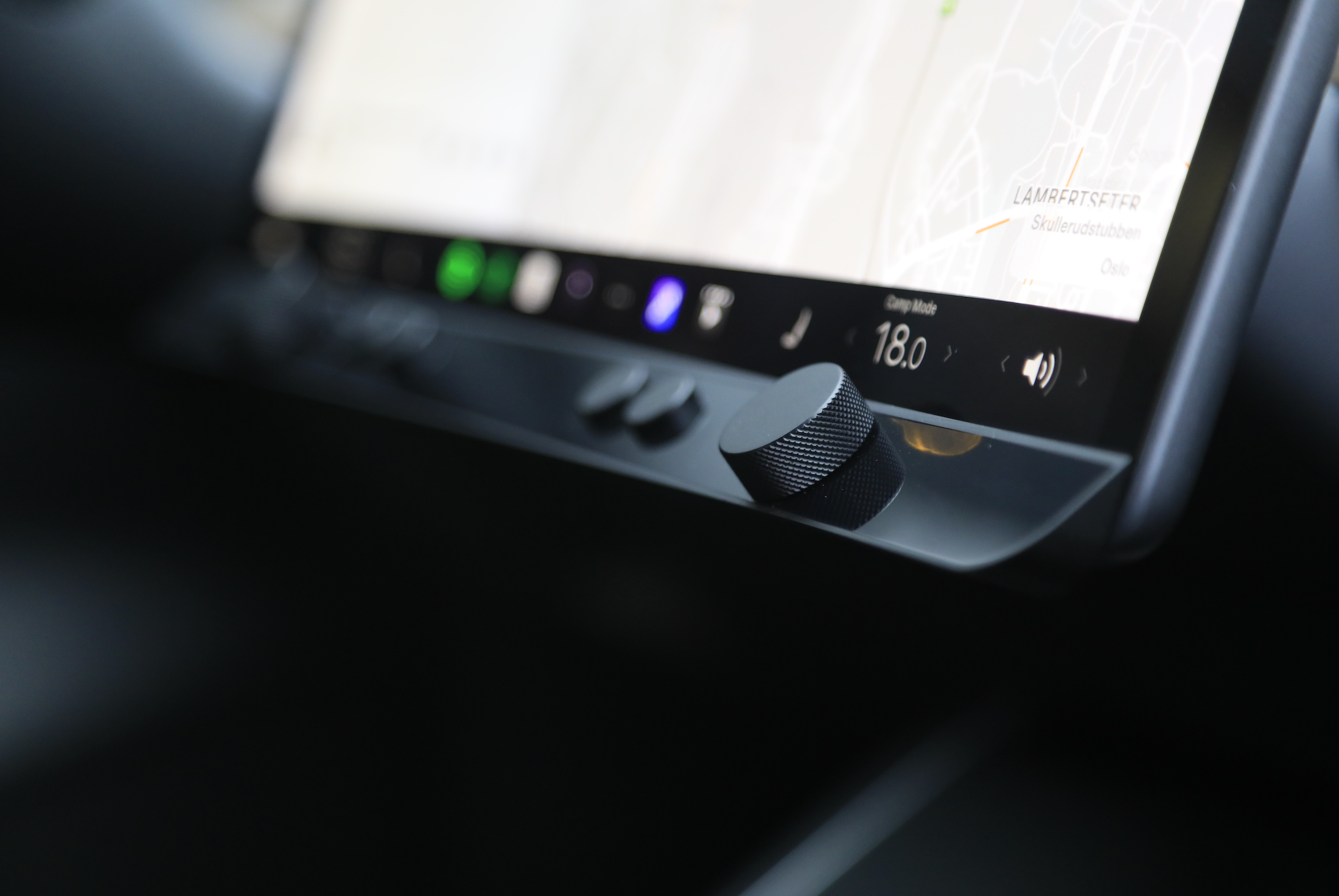 Bringing physical buttons to tesla model 3/y
Ctrl-Bar
Drive with
Full ctrl
Two scroll wheels with tactile indents give the driver and passenger complete control of the cabin temperature. Six push buttons ensure easy access to programmable shortcuts. Keep scrolling to see everything they can do!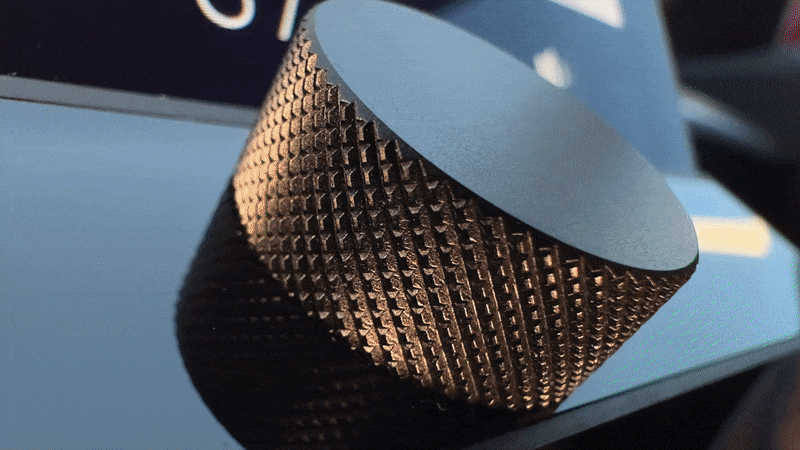 seamlessly
integrated
Ctrl-Bar attaches securely to the bottom of the main center screen. The premium black finish blends perfectly with the screen bezel. All communication with the car happens wirelessly.
illuminate
Night drives
Ctrl-Bar can illuminate your center console and front footwells with lighting from a series of powerful LEDs. Scroll through different colors and brightness settings on your Ctrl-Bar to find the perfect color for your drive!
programmable buttons
Here are a handful of the functions you can assign to the six push buttons.
control leds
Toggle and adjust the Ctrl-Bar LEDs.
Lock/unlock
Toggle the door locks
seat heaters
Adjust seat heaters
keep climate on
Activate "keep climate on"
dog mode
Activate "dog mode"
Planned
Features
Ctrl-Bar will receive OTA updates to improve just like your Tesla! These functions will be added in the coming weeks. If you have more suggestions you can submit them here.
Homelink
Control your Homelink garage if your Tesla is compatible.
Steering wheel heater
Toggle the steering wheel heater to keep your hands warm.
Max cool
Set the HVAC to the coolest temperature.
Biodefense
Toggle the Biodefense mode for quick activation when encountering polluted air.
Sentry mode
Toggle sentry mode and keep your Tesla safe.
Next/prev song
Next/Prev the playing media on your Tesla infotainment system
Play/pause media
Play/pause the playing media on your Tesla infotainment system
Coming early next year
OBD support
We plan for everyone with a Ctrl-Bar by early next year to be able to unlock a plethora of new features, including Fold mirrors, Glovebox, Wiper speed, Acceleration mode, and much through a OBD device!
Having knops that control the Temperatur is a game-changer for me
Build quality is great, installation is extremely simple, and I like the overall look
Tesla finally gets buttons and physical inputs, thanks to new smart accessory
Ctrl-Bar give you a safer and more intuitive driving experience
The Ctrl-Bar isn't just a product - with continues updates it is a evolution
With the Ctrl-Bar you can sett the temperatur and use the cars functions without ever needed to take your eyes off the road.
Tesla Model 3/Y gets fancy physical buttons with this Indiegogo accessory
Tesla Model 3 And Model Y Get Physical Buttons Via Third-Party Accessory
It has never been a better time to elevate your Tesla experience
FUNCTIONS
Turn the max heater mode on/off. This sets the temperature and fan speed to their highest levels and turns on the heating for your windows and mirrors. It's a favorite for a quick "one-click solution" when faced with foggy windows.
Toggle the LED lights on Ctrl-Bar for the ideal interior illumination. 
Press and hold the button for the LED light for 1 second. The display will switch to "LED settings". You can now use the right scroll wheel to adjust color and the left scroll wheel to adjust brightness.
Switch between on/off and the three different heat-settings by pressing the button. You can choose which of your 5 seats you want to control through the app. It's convenient to have a "one-click solution" to change the seat temperature without having to look down while driving.
Lock / Unlock your car. A useful "one-click solution" to lock all your doors in an emergency situation.
Open and close the trunk by pressing the button.
Open frunk by pressing the button. Sorry - you cannot close it ;-).
Ctrl-Bar has two knobs for controlling the temperature.  Ctrl-Bar has a screen in the center showing your real-time adjustments.
Want different temperatures for the driver and passenger? Easy! Just adjust the temperatures separately on your Tesla screen (split). Then, let Ctrl-Bar know by pressing the specific button for 'split/unsplit' on the Ctrl-bar. After that, you can use the left and right scroll wheels to control each temperature individually. (split mode is ready week 45)
Activate dog mode. It keeps the climate control running when you've left the car, and displays a message on the screen for passersby that "your dog is ok".
Turn on camp mode. Maintains temperature, airflow, and lighting for a comfortable camping experience.
Turn "Keep Climate On" mode. Maintains temperature when you are out of the car.
How does it work?
Ctrl-Bar connects to your phone using Bluetooth Low Energy (BLE) and is powered via a hidden USB cable connected your USB port. Your phone runs the app in the background. The app listens for changes made to the physical buttons and then communicates this to your car using the Tesla API.
Your phone needs an internet connection (cellular or Wi-Fi), just like your Tesla app. Premium connectivity is not required.
There is a slight delay when sending commands over the internet from the Ctrl-Bar to your car. To avoid a degraded user experience, Ctrl-Bar has a screen in the center showing your real-time changes. If you, for example, want to change your temperature from 65 to 70 F, you would turn the knob five indents to the right. The screen will show your new temperature as you turn (66F, 67F, 68F, 69F, 70F). When you're done turning, it will send the new temperature to your car (in less than a second). This results in a great user experience with no latency as you turn the knob and press the buttons.
installation
Ctrl-Bar works with all Model 3/Y.
Ctrl-Bar attaches with a strong 3M adhesive. Installation is simple and self aligning.
What about my privacy?
Greenmission ensures the confidentiality of your information. We only retain essential data for billing and customer support purposes, such as your name and address.
To enable Ctrl-Bar's ability to control some functions on your Tesla vehicle, your Tesla account credentials are required. These credentials help generate an access token. When issuing a command (e.g., opening the trunk) from Ctrl-Bar to the Tesla servers, this token confirms the app's authority to execute such actions on your vehicle. Communication is solely between the app and Tesla servers. Therefore the control of the car is safely managed in the same way the tesla app manages the control of the car. Greenmission neither have accesses nor stores this data. Your token is exclusively stored on your device for optimal security.
Contact Us
If you have any questions, please don't hesitate to ask them here :)